---
| | | |
| --- | --- | --- |
| " | Used for central heating and ship servicing. Beware of rats. | " |
---
Summary
The Service Vent is essentially a Lift that lets you move horizontally. The Service Vent cannot be targeted by any weapon. When crew use the vent, they will preform a crawling animation. The Service Vent is 1x1 and can stack with other 1x1 Rooms. The fact that it protects any crew in the vent allows for incredibly powerful tactics
Crew and Service Vents
The Service Vent functions like a sideways lift. The crew will crawl through the vent even when a room is ontop of the vent or if the vent is incredibly long. Here are some examples of what will work and what won't for the Service Vent.
| | | |
| --- | --- | --- |
| | | |
| Won't Let Crew Pass | Will Let Crew Pass | Crew Using The Vent |
Strategy
Service Vents may not be considered very useful, but you can pull off many combos with the vent and other 1x1 rooms if you know how. These tactics are usually for the later game, but they can also be pulled off in the early game.
Armor and Vents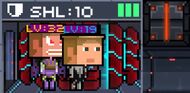 This tactic is used if you have to sandwich rooms on top of each other. This tactic allows for both Armor of the room and an easy corridor for your crew. If you use this on sandwiched rooms, try to stagger the rooms on top by 1 tile so the armor can protect more rooms.
Lifts and Vents

This tactic is used if you have only one central Lift and experience massive holdups. Since the Service Vent can't be targeted, it'll protect any crew that are waiting to use the Lift. This is incredibly useful next to rooms like the Shield.
Statistics
Statistics
| Ship Level | 1 | 2 | 3 | 4 | 5 | 6 | 7 | 8 | 9 | 10 | 11 |
| --- | --- | --- | --- | --- | --- | --- | --- | --- | --- | --- | --- |
| Number Available | 0 | 0 | 0 | 5 | 5 | 5 | 10 | 10 | 10 | 15 | 15 |
| Level | Upgrade Cost | Ship Level Required |
| --- | --- | --- |
| 1 | 2.5K | 1 |
---
Non-Powered Rooms
---
Armor / Corridors
Armor • Small Beacon • Lift • Service Vent
---
Bridge • Command Center • Computer Room • Fleet Council • Laboratory • Gym • Zaki Dragon Gym • Galaxy Gym • Academy
---
Crew Rooms
---