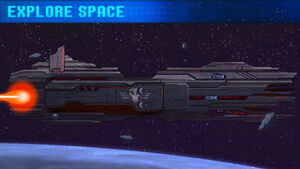 Introduction
The Pirate Faction is one of the 3 starter factions you get to pick in Pixel Starships. The other two being the Federation and the Qtarian. This faction usually has the least amount of grids.
Differences
The main difference that separates the Pirate Faction from the others is the horizontal and elongated design. Pirate ships are incredibly wide and not vertically sound. Since the ship's design develops a barbell-like shape in the mid-stage, it can be incredibly hard to design a ship which maximizes grid potential.
Ships
The main color scheme for the Pirate ships are their distinct Red and Grey color along with its threatening skull. The hybrid ship branch unlocked at level 10 is the Scavenger. (PLEASE NOTE THAT BY PRESENT DAY, MOST SHIPS HAVE SLIGHTLY DIFFERENT LAYOUTS AND MORE DETAILED ART IN THE ACTUAL GAME.)
The List of Pirate Ships can be found here Pirate Ships and Pirate Scavenger Ships.
---
Starter Factions
Pirate • Federation • Qtarian
---
Later Factions
---