Obi-Wan Finale - The Loop
Play Sound

| | | |
| --- | --- | --- |
| " | Turbofan lift. Provides vertical room access. | " |
---
| | | | | | | |
| --- | --- | --- | --- | --- | --- | --- |
| | | | | | | |
| Level 1 | Level 2 | Level 3 | Level 4 | Level 5 | Level 6 | Level 7 |
| | | | | | | |
| Level 8 | Level 9 | Level 10 | Level 11 | Level 12 | Level 13 | Level 14 |
---
Summary
The Lift is one of the most vital rooms in Pixel Starships. It's a 1x1 Room that allows you to transport your crew vertically up and down your ship. When crew goes into the room, they cannot be damaged as the Lift is impossible to target. Placements of your Lift is very important as too many or too little can cause a massive hold up when your crew tries to use the Lift. Upgrading your lifts makes them faster and your crew won't need to wait as long. It is very important to upgrade your lifts when using a Qtarian Ship and Oracle Ship.
Lifts and Crew
Lifts let your crew move everywhere where the lift extends. Sometimes, Lifts can seem too short to be able to transport crew, but if placed correctly, your crew will preform a crawling animation and move to the room. Below are some examples of what will allow your crew to use and get off the lift.
| | | | |
| --- | --- | --- | --- |
| | | | |
| Won't Let Crew On | Will Let Crew On | Won't Let Crew Off | Will Let Crew Off |
Strategy
Lift Tactics
Lifts should always be on a ship, especially if your using the Qtarian Ships and Oracle Ships. You Lift shouldn't be too far right or too far left either as that can cause a long crew holdup. Instead, put the lift near the middle so each side is somewhat equal distance away from the lift. Also, NEVER EVER leave a powered room that is not reachable by any crew.
Other Tactics?
If the enemy has one main lift and alot of repair crew, your boarders (if you use the Teleport) can have a real easy time picking the crew off one by one due to the slow release of crew. Note that all crew waiting for the lift will ignore any enemy boarders and repairs if their AI doesn't tell them to.
There also is another advanced tactic with Service Vents. If you have alot of crew holdup and want to save your crew you can do this tactic. The vent allows your crew to be safe while waiting for the lift.
Lifts can also be used as cheap Service Vents, just make sure the Lifts aren't connected to another Lift.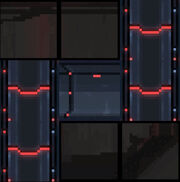 Example of The Lift and Service Vents.
Upgrade Data
Fully Upgrading One Lift Will Cost 6,567,225 .
It Will Cost A Grand Total Of 197,016,750 To Max Out Every Lift At Level 11.
Statistics
Statistics
| Ship Level | 1 | 2 | 3 | 4 | 5 | 6 | 7 | 8 | 9 | 10 | 11 |
| --- | --- | --- | --- | --- | --- | --- | --- | --- | --- | --- | --- |
| Number Available | 8 | 8 | 8 | 12 | 12 | 16 | 16 | 20 | 20 | 20 | 30 |
| Level | Speed | Upgrade Cost | Ship Level Required |
| --- | --- | --- | --- |
| 1 | 90 | 25 | 1 |
| 2 | 100 | 200 | 1 |
| 3 | 110 | 1K | 2 |
| 4 | 120 | 2K | 2 |
| 5 | 130 | 4K | 3 |
| 6 | 140 | 10K | 4 |
| 7 | 150 | 30K | 5 |
| 8 | 170 | 80K | 6 |
| 9 | 200 | 140K | 7 |
| 10 | 230 | 500K | 8 |
| 11 | 250 | 900K | 9 |
| 12 | 280 | 1.3M | 10 |
| 13 | 350 | 1.7M | 11 |
| 14 | 440 | 1.9M | 11 |
---
Non-Powered Rooms
---
Armor / Corridors
Armor • Small Beacon • Lift • Service Vent
---
Bridge • Command Center • Computer Room • Fleet Council • Laboratory • Gym • Zaki Dragon Gym • Galaxy Gym • Academy
---
Crew Rooms
---